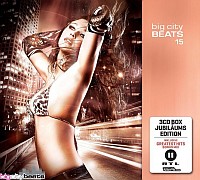 Big City Beats Volume 15
von CP
Big City Beats 15
Die große Jubiläums Compilation mit den besten Club Tracks von heute und den Greatest Dance Hits aller Zeiten kommt am 30.09.2011

Im rasanten Puls der Großstadt erwacht eine Leidenschaft, getragen aus purer Energie und in jeder Zelle des menschlichen Körpers. Ihren eigenen Ausdruck findet sie in glamourösen Inszenierungen, angetrieben durch die Magie des Wochenendes. Wenn sich die Kräfte jedes Einzelnen zu kollektiven Großstadtschlägen vereinen, beginnt das Herzklopfen einer unbeschreiblichen Nacht.

Seit über 7 Jahren stehen die BigCityBeats mit ihren erfolgreichen und beliebten Radio- und Eventformaten für Nightlife Entertainment auf bleibend hohem Niveau. Sowohl Popstar David Guetta, DJ Motiv8 von den Black Eyed Peas, als auch Tiesto haben sich mit ihren Shows für Deutschlands mutigstes Radio entschieden und überzeugten auf BigCityBeats Events wie dem SommerTagTraum oder bei Sea of Love vor fünfstelligen Besucherzahlen.

Neben Radio und Events konzentrieren sich die Macher der BigCityBeats in Zusammenarbeit mit Kontor Records zweimal jährlich mit ihrer ganzen Erfahrung auch auf die gleichnamige Compilation Serie, die es bereits auf Platz 2 der offiziellen Media Control Charts geschafft hat. Um diesem Anspruch gerecht zu werden, vereinen die BigCityBeats Resident DJs Marco Petralia, Steve Blunt und Sebastian Gnewkow die größten Hits ihrer aktuellen DJ-Sets und verpacken damit die Emotionen einer rauschenden Club-Nacht in eine dreifach CD-Box, die auch im MP3-Format den perfekten Begleiter für jede Situation darstellt.

Gekleidet und glänzend in funkelndem Edelmetall reflektiert die BigCityBeats Vol.15 die Weltelite der Danceszene und bildet mit den Hits von Swedish House Mafia, Milk & Sugar, Fedde Le Grand, Martin Solveig, Tom Novy und Avicii das gesamte Spektrum zeitgemäßer Clubmusic ab. Einer Jubiläumsausgabe angemessen, werden nicht nur brandaktuelle Tunes präsentiert, sondern auf der dritten Bonus CD die musikalischen Höhepunkte der BigCityBeats Historie in einem neuen DJ Mix vereint. Wie ein gewaltiges Feuerwerk erleuchten die größten Club Hits der vergangenen Jahre von David Guetta, Eric Prydz, Mylo, Steve Angello oder Roger Sanchez den nächtlichen Himmel der Großstadt.

Auf diese Weise kristallisieren sich erstmalig 60 Tracks auf insgesamt 3 Silberlingen in einer aufwendig gestalteten CD-Box zu einem wahren Nightlife-Juwel voller Großstadtemotionen, dem der exklusive Titel "Come Back 2011" von BCB Resident Marco Petralia den nötigen Feinschliff verleit.

BigCityBeats Vol.15 - ab dem 30.09. im Handel und auf allen Downloadportalen erhältlich.

Die Veröffentlichung wird von einer bundesweiten BigCityBeats Release Club Tour begleitet, darunter Highlights wie der legendäre Cocoon Club Frankfurt.

Bestellen
Video
CD`s
CD1 - Martin Solveig, Fedde Le Grand, Swedish House Mafia, Moby, Alex Kenji, Frida Gold, DBN, Avicii, Kid Massive, Muzzaik, Eddie Thoneick, Erick Morillo, uvm.
CD2 – Chris Brown & Benny Benassi, Tom Novy, Milk & Sugar, SykenSugarstarr, Roy Davis Jr, Chocolate Puma, Sandy Rivera,
The Shapeshifters, uvm.
CD3 - David Guetta, Michael Gray, Eric Prydz, Steve Angello, Laidback Luke, Roger Sanchez , Mylo, Ida Corr, Dennis Ferrer, Booka Shade, Soulsearchers, uvm.
Tracklisting
CD 1
1. Intro - Take Off Vol. 15
2. Martin Solveig with Dragonette feat. Idoling!!! - Big In Japan
3. Swedish House Mafia - Save The World (Extended Mix)
4. Nadia Ali, Starkillers & Alex Kenji - Pressure (Alesso Remix)
5. Frida Gold - Wovon Sollen Wir Träumen (Michael Mind Remix)
6. Dan Lemur - Monsters
7. DBN presents Tom Shark feat. Shena - Le Freak
8. Avicii - Sweet Dreams
9. Francesco Diaz, Young Rebels, David Costa - Barcelona
10. Fedde Le Grand & Patric La Funk - Autosave
11. Dirty South & Thomas Gold feat. Kate Elsworth - Alive
12. Tom Hangs ft Shermanology - Blessed (Avicii Edit)
13. Nause - Made Of (Chuckie Remix)
14. Goldfish - Soundtracks & Comebacks (Fedde le Grand Remix)
15. Kid Massive & Peyton - A Little Louder (Muzzaik Remix)
16. MyBack - Was I A Fool (EQ Mix)
17. Michael Brun, Remy Joel & Xpreossin - Shades Of Grey (Incognet Remix)
18. Moby - The Day (Eddie Thoneick Remix)
19. Erick Morillo & Eddie Thoneick feat. Shawnee Taylor - Stronger (Chuckie & Gregori Klosman Mix)
20. Morgan Page, Sultan + Ned Shepard & BT feat. Angela McCluskey - In The Air

CD 2
1. Roy Davis Jr. feat. J.Noize & Kaye Fox - Enjoy The Ride (James Talk & Ridney Remix)
2. Fedde Le Grand - So Much Love
3. Tom Novy feat. Michael Marshall - Your Body 2011 (Alex Kenji Remix)
4. Tradelove - Rock The Casbah (Lissat & Voltaxx Remix)
5. Milk & Sugar feat. Miriam Makeba - Hi-a Ma (Pata Pata) (Club Mix)
6. Wawa feat. Fabal - Sombrita 2011 (Sebastian Gnewkow & Milkwish Remix)
7. The New Iberican League - Keep On Jumpin
8. Ce Ce Rogers & SykenSugarstarr - I Believe
9. Martin Solveig feat. Kele - Ready 2 Go (Hardwell Remix)
10. Chris Brown & Benny Benassi - Beautiful People (Club Mix)
11. James Talk & Ridney feat. Max C - One For Me
12. Ralph Good feat. Polina Griffith - SOS
13. Ray Foxx - The Trumpeter (Chocolate Puma Remix)
14. Sidney Samson & Max C - Panorama (Don't Mean A Thing) (Roul & Doors Vocal Edit )
15. Jesse Garcia ft. Corey Andrew - Stormy Weather (David Penn Vocal Mix)
16. David Jones - Miami To LA
17. Jason Herd & The Futuristic Polar Bears feat. Ollie James - Freakin'
18. Sandy Rivera & Yasmeen - Love (Daddy's Groove Remix)
19. Human Life - In It Together (The Shapeshifters Remix)
20. Marco Petralia feat. Jimmie Wilson - Come Back 2011 (Petralia & Faubert Mix)

CD 3
1. The Shapeshifters - Lolas Theme
2. Soulsearcher - Can't Get Enough (Vocal Club Mix)
3. Michael Gray - The Weekend (Extended Vocal Mix)
4. Eric Prydz & Steve Angello - Woz Not Woz (Club Mix)
5. Syke'n'Sugarstarr Pres. CeCe Rogers - No Love Lost (D.O.N.S & DBN Remix)
6. Steve Angello & Laidback Luke feat. Robin S. - Show Me Love (DBN Remix)
7. Eric Prydz - Pjanoo
8. Roger Sanchez - Another Chance
9. Mylo - Drop the Pressure
10. Till West & DJ Delicious - Same Man
11. Switch - A Bit Patchy (Eric Prydz Remix)
12. Avicii & Sebastien Drums - My Feelings For You
13. Martin Solveig & Dragonette - Hello (Club Edit)
14. Ida Corr - Let Me Think About It (Fedde le Grand Club Mix)
15. Fedde Le Grand - Put Your Hands Up For Detroit
16. Eddie Thoneick - I Wanna Freak You (Eddie Thoneick Classic Mix)
17. Dennis Ferrer - Hey Hey (John Jacobsen & Anzwer Remix)
18. Axwell, Ingrosso, Angello & Laidback Luke feat. Deborah Cox - Leave The World Behind
19. David Guetta feat. JD Davis - The World Is Mine (Deep Dish Remix)
20. M.A.N.D.Y. vs. Booka Shade - Body Language
Bestellen
Big City Beats Vol. 15 Gewinnspiel
Hier auf owl-go.de könnt Ihr 2 x 1 die neue Big City Beats Vol. 15 CD gewinnen.